So I had the pleasure of not only reading and reviewing Raven & the resurrected but I got to interview the author Tami Jackson as well.
I would like to thank Tami for her time to answer my questions and I hope you all enjoy the interview!


Thank you, very much, Annabel, for interviewing me today.
ANNABEL: Can you tell us a little about yourself?
TAMI: Well? I live just south of Seattle now with my husband Doug. I like dark chocolate and the color red. Like you, Annabel, I love pets for the fun energy they bring into a home and Doug and I've been adopted by a dachshund, a pug, and two indoor cats. We also keep a handful of chickens in the back yard with a rabbit named Oscar. Formerly a sole custody parent, I raised my three children alone and feel so grateful they are all now very successful adults. Through my marriage to Doug, I gained two grown step sons so we now make up a rather large family.
ANNABEL: Can you tell us a little more about your book?
TAMI: The book is called
Ravena & The Resurrected
(SunTigerMOJO.com) and reviewers keep remarking about how humorous they find it. 23-year-old Ravena Doomlah had moved to Seattle to meet vampires. She recently graduated from college and, as a plump computer geek (she works in tech support) scores a job at the downtown library. That's where she cannot understand why her coworkers don't believe in blood drinkers. They won't even listen when she admits she met a gorgeous blonde vampire on the street with mesmerizing blue-green eyes.
She yearns to meet that vampire again and returns to the location where she saw him, but things don't go as planned. When Ravena finally becomes vampire, instead of feeling wooed, she's suddenly attacked in a very cruel fashion. Her maker is a very thin and unfamiliar grey-haired stalker who looks like he stepped out of a history book with his dali mustache. The rest of the book details Ravena's life: as she goes through the changes that make her crave blood while she flees a highly motivated enemy, Assassins, who hate all stalkers of the night. The book has many twists and turns that make complete sense by the time a reader reaches the happy ending.
ANNABEL: Would you rather be a werewolf or vampire and why?
TAMI:When I walk into a book store, I can get lost in either the vampire or werewolf section. I love reading about them both. Meanwhile, because werewolves seem less able to control themselves, and because when a vampire shape-shifts (e.g., to fly) it's not due to the moon phase but due to personal desire, I think the vampire life looks much more compelling. Vampires are not typically depicted as enduring the most painful transformations that werewolves endure either. In
R&R
, Ravena's great-grandmother remembers werewolf stories from her childhood and describes how not all shape-shifters are alike. A wolf made by a sorcerer's curse has less control during a full moon than a wolf-mutant who acquired the virus from being bitten. In chapter seven:
"Those bitten can shape-shift and turn into a wolf any time they want. Other werewolves, such as those cursed by a soothsayer, shape-shift only when there's a full moon. That's why cursed wolves harbor a most ferocious resentment for the moon phases; as Luna (the moon) controls them!"
ANNABEL: What is your writing process like?
TAMI: It's wide and varied. Sometimes I'm holding the dachshund while the pug sleeps at my feet and I type away feverishly. Yet sometimes ideas come while I'm sleeping. That's when I wake up, jot down notes, and go back to sleep. Sometimes I'm compelled to take my laptop to the library or to a coffee shop and just sit with the public buzz happening in the background while I write like crazy. At other times, I'm outside gardening and remove my gloves to jot down notes to myself. I often peck out quick notes on my Smart Phone when I'm out and traveling around town. That's so I don't forget a great idea once it appears.
ANNABEL: Did you decide right away that your book would be the first in a series?
TAMI: No. Meeting Ravena was very much like making friends in a book club. The relationship had to evolve and now she's become so real to me I started a character blog for her. She still has much more to say (which is why this will be a series.)
ANNABEL: How did you come up with Ravena?
TAMI: Initially I wanted to record life lessons that I feel took me way too long to learn. If I ever have grandchildren, I hope they are not taught to always turn the other cheek, and they are instead advised that some people can be very mean and quite often it has nothing to do with something the child may have done – so learn to avoid those people and surround yourself with the loving sort. Some of these "lessons" I've learned are expressed in Ravena's life. For instance, it takes her a while to learn she cannot just take everybody at their word – not even those she meets in the night.
ANNABEL: If This book would be made into a movie, who would you want to play the role of Ravena?
TAMI: There are so many talented actresses the world over. I'm sure many (currently unknowns) could play her part very effectively. In my mind, after Ravena becomes vampire, she looks something like Croatian actress Zrinka Cvitešić (my drawings of Ravena do NOT do her justice). Meanwhile, I adore Keira Knightley and all her work. She would most certainly play Ravena perfectly!
ANNABEL: Do you have any advice for people out there who want to become writers?
TAMI: Just do it. Write. You can study writing all you want and go to all the workshops and writer's critique groups you can make time for. Yet unless you're actually sitting down in isolation doing 'the work' you won't ever really get your book written. Writing can feel very lonely at times. That's why I really love social media. I treat Facebook, other blogs, and Twitter like it's the office water cooler. I pop by and say hello to people to make sure I stay in touch with what's going on in the world when I'm working in isolation.
ANNABEL: Is there anything you want to say to your fans reading this?
Thanks again, Annabel. I feel very thankful for all of your questions and am grateful for this opportunity to share with your subscribers.
Again thank you very much Tami for your time! If you want to read my review of the book just click HERE.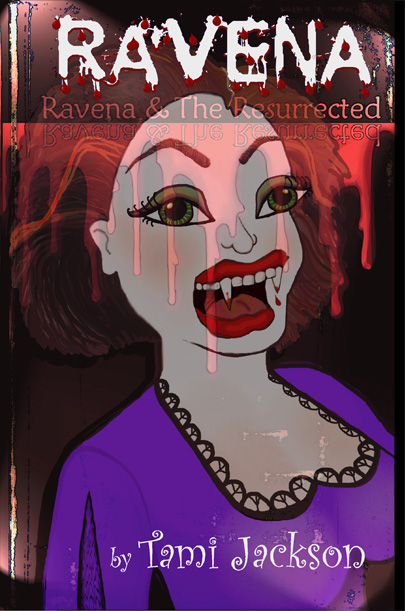 You can find a summary of the book at Goodreads.
And if you would like to read this book yourself so you can read this wonderful book yourself. You can find the book
here at smashwords.