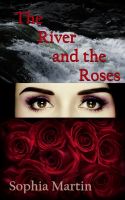 Title: The river and the roses
Author: Sophia Martin
Pages: 366 ( on my e-reader )
Catagory: Paranormal Mystery
The story:

Since childhood, Veronica Barry has denied her psychic ability. When she dreams of blood and roses in Sacramento's McKinley Park, the images are so vivid that she rushes to the rose garden, only to find that she is too late to save the victim. Although Veronica yearns to put the experience behind her, her best friend turns to her for help in finding her daughter, Angie, who has gone missing. Veronica must learn to embrace her gift, or Angie will be the next to die.
The view of a book addict:


This was an amazing book! I sat down with it today to just read a couple of chapters and I ended up finishing it! I just couldn't put it away. I felt like I was the main character while reading this story.
I even caught myself trying to figure out the mystery myself. I was even frustrated like the main character when she had her visions and couldn't tell who the other person in the vision was. They story moves along in a good pace, you don't get bored reading this story!
The verdict of a book addict:


Amazing book! If you like a good paranormal book with a huge mystery in it this is your book! Great characters and amazing storyline with a surprising twist.